Les indiens avaient leur danse de la pluie, nous avons les « Summer Mix » pour faire venir le soleil. Et vu les conditions météos sur Paris, il est grand temps d'écouter le nouvel épisode de « From Paris To KaZantip », édition Z:22 / 2014.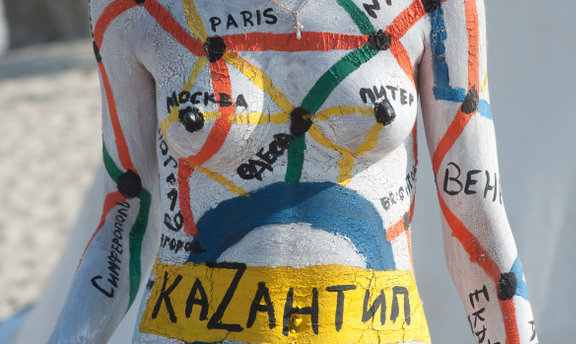 Recette pour un été réussi: du sable pour s'allonger, de l'eau pour se rafraichir, du soleil couchant parce que c'est romantique … et surtout du bon son trance pour faire vibrer vos émotions ! C'est tout le programme de ce « Summer Mix » qui vous transportera dans une autre dimension, celle de la magie de la République de KaZantip.
Pour trouvez votre chemin, suivez la carte !
Et si ce mix ne vous suffit pas, écoutez l'intégralité des 10h de mixs dans la playlist « From Paris To KaZantip« .
Tracklist
Andrew Rayel feat. Alexandra Badoi – Goodbye (Intro Rework)
Liuck & XB feat. Fenja – Prince & Beggar (Andrew Rayel Vocal Remix)
Bobina – Out Of Coverage (Original Mix)
Bobina & Andrew Rayel – Sacramentum (Andrew Rayel Aether Mix)
30 Seconds To Mars – City Of Angels (Markus Schulz Remix)
Betsie Larkin & Ferry Corsten – Stars (Ferry Fix)
Driftmoon & Andy Blueman feat. DSharp – Leviticus (Original Mix)
Cataracta – Primitus (Original Mix)
Saman & Farzam feat. Allam – Arwen (Original Mix)
Driftmoon & Geert Huinink feat. Kim – Worlds Which Break Us (Orchestral Mix)
Icone vs. Howard Shore – Sorrow Of The Evenstar (SoundLift Mashup)
Ahmed Romel & Tonny Nesse – Alva (Original Mix)
Gouryella – Gouryella (Kaimo K Rework)
Sergey Nevone & Simon O'Shine – Apprehension (Aly & Fila Mix)
Aly & Fila vs. Fady & Mina – The Journey (FSOE 300 Anthem) (Original Mix)
Eddie Bitar – Rollercoaster (Original Mix)
Manuel Le Saux – Phoenix (James Dymond Remix)
Paul Oakenfold – Southern Sun (Angry Man Remix)
Bobina – Invisible Touch (Ferry Corsten Touch)
Type: mp3 (CBR @ 192kbps)
Size: 167 Mo
Time: 116:05
From Paris To KaZantip Z:22 by Eicko on Mixcloud
Download:

Merci d'éviter les liens directs vers les fichiers, ces derniers pouvant être amener à changer de nom ou d'hébergeur. Préférez un lien vers ce billet directement.